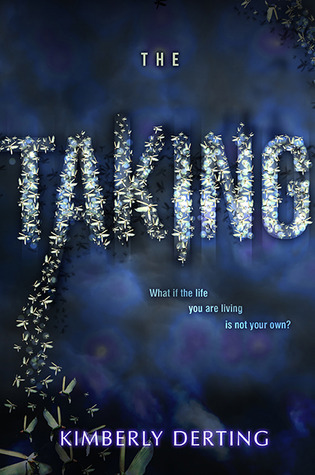 Title/ Author: The Taking by Kimberly Derting
Publisher/ Year:
HarperTeen, 2014.
Why I Read It:
I went to the Dark Days Tour when they visited Anderson's Bookshop & the author of the book was featured as well as this book.
This is the first book in a new series by Kimberly Derting & I'm really happy that I decided to pick this book up I got it from the library and made sure that I was the very first hold.
Summary from Goodreads:

A flash of white light . . . and then . . . nothing.
When sixteen-year-old Kyra Agnew wakes up behind a Dumpster at the Gas 'n' Sip, she has no memory of how she got there. With a terrible headache and a major case of déjà vu, she heads home only to discover that five years have passed . . . yet she hasn't aged a day.
Everything else about Kyra's old life is different. Her parents are divorced, her boyfriend, Austin, is in college and dating her best friend, and her dad has changed from an uptight neat-freak to a drunken conspiracy theorist who blames her five-year disappearance on little green men.
Confused and lost, Kyra isn't sure how to move forward unless she uncovers the truth. With Austin gone, she turns to Tyler, Austin's annoying kid brother, who is now seventeen and who she has a sudden undeniable attraction to. As Tyler and Kyra retrace her steps from the fateful night of her disappearance, they discover strange phenomena that no one can explain, and they begin to wonder if Kyra's father is not as crazy as he seems. There are others like her who have been taken . . . and returned. Kyra races to find an explanation and reclaim the life she once had, but what if the life she wants back is not her own?
Quick Summary for those who have not read it yet:
I have to admit, I'm not the biggest sci-fi novel fan, but for some reason this intrigued me a lot. Maybe it was because I read and loved the
Across the Universe
series and wanted to explore this YA genre some more!
The Taking
is a really amazing story filled with action, romance, and a mystery, which we kind of don't see a lot in books now. While I was intrigued with the plot & completely interested in Kyra's life as she discovers what happened after 5 years of being nonexistent due to the flash of a white light, my mind kept wondering and wondering in the back of my head...
if she really was "taken" how exactly did she get "taken"?
This book will truly leave you on the edge of your seat. I promise you.
The Review:
If it wasn't for the Dark Days Tour, I probably would not have given this book a shot at all. Kimberly convinced me that the book seemed pretty worth it, so I said to myself, "well why not? My TBR list is already 5 miles long so might as well." This book completely took me by surprise. It definitely was a lot more than I had previously expected.
First, let's talk about the cover. Now, I also heard about this book from Epic Reads & they talked briefly about the cover. When you first look at it, it looks like the the word is spelled out in little stars. That is a false statement. So what are they really? They're fireflies. FIREFLIES. I noticed/ remembered that only after I got into Part 2 territory. After finishing the book, I really believe it highlights the the full feel and meaning to the story: the mystery, the serene and eerie feelings.
The prologue, all it really tells you is what happened on the day that Kyra disappeared. The main things I paid attention to were the fact that there was a bright flash of light and then absolutely nothing. The entire Part 1 was Kyra adjusting to coming back after 5 years, when she felt like it's only been a day. My heart broke for her in so many ways. I don't know how I would handle myself if I came back the same and 5 years of my life have passed by completely and everything I thought I knew was just...gone. Her parents divorce. She has a new stepfather and brother. Her father drinks a lot because he went crazy on different theories (alien related) on how she disappeared and where she went. And on top of all that, her boyfriend, Austin, and her best friend Cat have moved on with their lives, gone off to the same college and are now together. Ouch. So she has to learn to adjust to all that with the help of Tyler.
Ladies and Gentlemen, it is with great pleasure that I give Tyler the award for "Most Swoonworthy". Thank you for your time. Hold the applause. Tyler was just one of those characters where you couldn't help but smile no matter what. I loved the fact that 5 years ago when he was 12 and Kyra was 16, he had the biggest crush on her. Now he's 17 and he still has those feelings for Kyra. Out of all the people that could have made Kyra feel welcome, it was the one person she didn't expect. She also didn't expect to fall for him either. I didn't expect to fall for him. Tyler could be any girl's dream guy. Who wouldn't want a guy who would make multiple chalk drawings on a STREET for you, or climb up to your window just to say "hi", or drop off a book. Throughout all the crap that Kyra gets put through since she got back, Tyler was the only one who saw her as a real person rather than a ghost of the past or a headline. I do think that the relationship was too quick (since the book takes place within the course of a week) and the fact that when she came back she was still in love with Austin..., but I really do love their relationship. You knew he would do anything for her, and no matter what Kyra tried to come across, we knew she loved him.
Part 2 was so fast to get through probably because it put me on the edge of my seat. I was so afraid that Kyra and Simon, a guy who had been "taken" before, were going to get caught. You find out so much more about what happens to those who are "taken" and the process of the white light and the fireflies. That was when my "AHA" moment came and I remembered the cover and such. It was so so intense and I didn't know what was gonna happen. The government agent creeped me out & the whole plot twist of her blood being like a disease or infection??? I DID NOT SEE THAT COMING. In fact it terrified me. Those aliens did some weird doodly-doo. Like what even? And she can heal?? But then Kimberly pulls the ultimate plot twist and Tyler gets freaking exposed to her infectious blood and he starts dying and I'm like ARE YOU FREAKING KIDDING ME RIGHT NOW LIKE SHE JUST CONFESSED HER LOVE DANG IT KIMBERLY. But it was just a rollercoaster ride seeing what the ending would be and if anything with Tyler would be resolved. At the end, we know he was taken and we also know that her father is off the radar. So what does Kimberly pull? A CLIFFHANGER. Are you kidding me?
So yeah this book was kinda brilliant. I need my hands on the next one. Now preferably.
As for my "swag", I didn't have a book for her to sign, but she did have an awesome poster and book mark that she signed for me!
Yes I know the pictures aren't the best quality, but hey, these items are still tangible and that is all that matters.