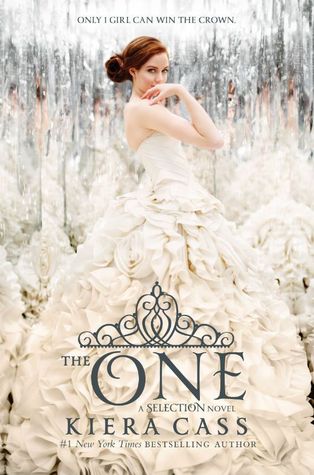 Title/ Author:
The One
by Kiera Cass
Publisher/ Year:
HarperTeen, 2014.
How I Read It:
Hardcover
Why I Read It:
IT IS THE LAST BOOK IN THE SELECTION SERIES (AKA ONE OF MY FAVORITE SERIES TO EXIST ON THE FACE OF THE PLANET
Rating:
5+++++ stars out of 5
This is the 3rd and final book in the Selection series! My heart hurt and fluttered and all of the above.
Summary from Goodreads: The Selection changed the lives of thirty-five girls forever. And now, the time has come for one winner to be chosen.
America never dreamed she would find herself anywhere close to the crown—or to Prince Maxon's heart. But as the competition approaches its end and the threats outside the palace walls grow more vicious, America realizes just how much she stands to lose—and how hard she'll have to fight for the future she wants.
Quick Summary for those who have not read it yet:
If you haven't even read the first book yet, GO AWAY AND DON'T COME BACK UNTIL YOU HAVE READ THE SELECTION AND THE ELITE :) So,
this book was more than I expected & this is one of my favorite series to ever exist & this is probably one of my favorite books of the year. I feel so sentimental looking back on the first two books & this has been one of the first books in a while where I really didn't want the book to end.
This was so so beautiful & I felt (almost) fully satisfied. For those of you annoyed with some characters, don't worry about a thing. For those worried about the progression of the plot, don't worry. For those who were frustrated throughout the course of The Elite as I was, you're in for a stunning, exciting, heart wrenching conclusion.
The Review:
Before I continued with this review, I tried to make a video for BookTube. Unfortunately my laptop sucks and until I can fix the problem, I won't be posting there. AND I HAD AN ENTIRE REVIEW FOR IT TOO.
Now that I've had a few days to process my thoughts, I now can write a review that does not include an outrageous amount of fangirl language that no one would understand. I got this book the day it came out, thanks to my friend Sylvia who drove to the bookstore to get this for me & when I got home, I binge read until I was completely finished. It took me 5 1/2 hours, no homework done, and it was already 2 in the morning.
So obviously, I loved this book. So so much. It had one of the most satisfying endings I've ever read in a trilogy EVER and Kiera Cass could not have done any better on this book and its concluding factors. It was literally so so perfect. I ended up LOVING some of the characters I thought I hated, there was a lot of character development, and there's an endless amount of action. There was never a dull moment. I was fully captivated throughout the entirety of the book, which doesn't happen a lot for me.
Where do I start? Okay, so by the time I finished this book, I loved Celeste. And Elise. And Kriss. And I hated Aspen left. And America was slightly less annoying. And Maxon was dumb sometimes, but otherwise, he maintained his swoon worthy charm :) Although Kierra Cass called him a "dweeb" at Dark Days Tour. But we expect nothing less from Maxon Schreave. Anyway, I've always seen America as an annoying character. The first book she's just stubborn and headstrong and I do love that about her but at the same time, she has NO filter. I mean just look at what happened in The Elite! Everytime something didn't go her way with Maxon she goes right on to Aspen. She was too indecisive I wanted to shoot myself. Like are you an idiot? And then she talks about getting rid of the Caste System (which I fist pumped but still said, "well shoot"). She was like that at the beginning of The One and I just kept shaking my head because her. For example in The Convicting, Queen Amberly even told her (not a direct quote) "Cool your jets and do what you should do even if it isn't the right thing cause it sure isn't the smart thing." America really does have a good heart, but she's way too impulsive. And Maxon & her at the beginning were basically fighting for really really petty reasons when they're obviously meant to be together. But I was SO happy when they finally stopped fighting.
One of my favorite scenes in the book was when Maxon took her on a date in the palace and America notices the rain, so he takes her to the roof and they begin to dance to no music. It was just so sweet and I loved how right then and there you KNEW that America loves Maxon. Regardless of the rebel attacks, they went outside, because they wanted to share that moment. I swear my heart melted at this part. I was so relieved that we didn't have to wait until the end to know who she loved. This scene really showed a lot about America and Maxon's characters and how they have struggled so hard to be together. Maxon has to fulfill his duties as future king and America has to live up to those expectations.
Now, throughout the Selection series, I HATED Celeste. She was a jerk to all the other girls & she wasn't even in the competition for Maxon. But during The One, it's was a complete 180. She really changed during this book & I respect Celeste so much now. She had a defining moment in this book when she finally opened up to America and rather than being mean to her, America decided to comfort her & the rest was history. I love how ALL of the Elite pretty much came together by the end. I remember early in the book when they were all fighting over who did what with Maxon & then by the end, they were like sisters. My favorite scene in the book was when they were all having fun in the Ladies Room and they were taking pictures and Kriss opens the door, asks Maxon for a camera, then she takes it and slams the door and throughout all that was going on, the remaining four girls just bonded & it was my favorite moment. It had nothing to do with the competition, or love, or Maxon. It dealt with a bond that was forming that the reader knew couldn't have been broken regardless of what would happen.
I loved the rebel aspect to the story. It brings the reader away from The Bachelor feel and it makes you realize that this story is truly dystopian. It brought all the action that I think was very much needed in the series & of course it got your heart racing, on the edge of your seat. They brought reality to the story. Not everything is gonna be a fairytale ending. AND CAN WE JUST TALK ABOUT AMERICA'S FATHER BEING A NORTHERN REBEL?? FRICK YES. I mean her name is America. I should have seen that coming. One thing I for sure did not see was her father dying. I mean she's losing everyone around her. She and Aspen are drifting away, her father dies, and the rebels keep fricking crap up.
Now, Chapter 28, 29, 30 & 31. The chapters that completely ruined my life. Thanks Kiera. First, Maxon, after a night of confessing his love for her and her confessing her love for him, the morning after sleeping in each other's arms, HE FINDS OUT ABOUT ASPEN. I expected this to happen a long time ago during The Elite but it could not have come at a worse timing. Because then Maxon kicks her out of the competition. ARE YOU KIDDING ME RIGHT NOW. Then she decides the read the letters that Maxon wrote for her while she was back in Carolina with her family. Chapter 29 gave me ultimate feels. When I went to Dark Days Tour, my friend Carolina asked if there were any scenes from the book that didn't make the cut or were almost cut. Kiera said she almost cut Chapter 29. No one remembered what happened in that chapter so all of us took out our books DURING this question, and flipped to the page. We all had a heart attack. SHE ALMOST CUT OUT MAXON'S LETTERS. We see how much he truly loves America. I kept telling this to my friends, "I've never seen anyone love someone so much as Maxon loves America." Then...Chapter 30 and 31 happened. Let's do a recap shall we?
Celeste dies

The King and Queen die

Maxon almost dies

And we hear America's speech in the closet while we wait to find out if Maxon and Aspen died
Maxon was about to make the biggest mistake of his life. But we knew his true heart when he took the bullet for America and was willing to die for her. He says, "Break my heart. Break it a thousand times, if you'd like. It was only ever yours to break anyway. I'll love you until my very last breath. Every beat of my heart is yours. I don't want to die without you knowing that."................GOODBYE WORLD. Then Maxon makes Aspen take her away and he says, "Be happy." Aspen shoves her into a closet while she waits for it all to be over. She wants to help and can't get out and we're left with the quote, "If you live, I'll let you call me your dear. I won't complain, I promise."
When we finally do find out that Maxon is alive and he finally proposes to America, my heart soared out of my chest. I loved it. I love the wedding scene. It was such a perfect way to close the series & I felt pretty sentimental about it looking back at where they were at the beginning and where they were now. I loved that (out of the people who were alive), everyone had a happy ending.
Hope y'all liked my review! What were your favorite moments? What didn't you like? What did you like? Were you Team Maxon or Team Aspen? How did you like the series overall? Thanks for reading everyone!